Intercultural Leaders

Intercultural Leaders, a project of the United Nations Alliance of Civilizations (UNAOC) in partnership with the BMW Group, is an exclusive skills and knowledge-sharing platform for civil society organizations and young leaders that work on addressing cross-cultural tensions.
Alumni of various UNAOC programs and projects, professionals from partner organizations and a group of mentors, form Intercultural Leaders. Through an innovative online system, Intercultural Leaders harnesses the solidarity of its members to maximize the impact of their work and help them foster cross-cultural understanding and cooperation. By strengthening civil society capacities, Intercultural Leaders also enhances UNAOC'S role as a convener, catalyst, and thought leader.
---
United Nations Alliance of Civilizations (UNAOC)

The United Nations Alliance of Civilizations (UNAOC) was established in 2005, as the political initiative of Mr. Kofi Annan, former UN Secretary General and co-sponsored by the Governments of Spain and Turkey.
A High-Level Group of experts was formed by Mr. Annan to explore the roots of polarization between societies and cultures today, and to recommend a practical programme of action to address this issue. The Report of the High-Level Group provided analysis and put forward practical recommendations that form the basis for the implementation plan of the United Nations Alliance of Civilizations.
On 27 February 2013, Mr. Nassir Abdulaziz Al-Nasser assumed the position of High Representative for the United Nations Alliance of Civilizations succeeding President Jorge Sampaio.
The UNAOC High Representative and Secretariat are based and operating from New York. The Alliance maintains a global network of partners including states, international and regional organizations, civil society groups, foundations, and the private sector to improve cross-cultural relations between diverse nations and communities.
In its 2006 report, the High-Level Group identified four priority areas for action: Education, Youth, Migration, and Media. UNAOC project activities are fashioned around these four areas, which can play a critical role in helping to reduce cross-cultural tensions and to build bridges between communities.
---
The BMW Group

With its three brands BMW, MINI and Rolls-Royce, the BMW Group is the world's leading premium manufacturer of automobiles and motorcycles and also provides premium financial and mobility services. As a global company, the BMW Group operates 31 production and assembly facilities in 14 countries and has a global sales network in more than 140 countries.
The success of the BMW Group has always been based on long-term thinking and responsible action. The company has therefore established ecological and social sustainability throughout the value chain, comprehensive product responsibility and a clear commitment to conserving resources as an integral part of its strategy.
UNAOC and the BMW Group entered a historical partnership in 2011. The cooperation was formally established during the General Assembly of the UN on 23 September 2011, at the UN headquarters in New York. Through its commitment to social entrepreneurship, with programs such as the BMW Group Award and numerous others, the BMW Group has promoted cooperative dialogue between different cultures for decades. From 1997 to 2010, the BMW Group has honored 45 projects and scientific research projects with its awards for Intercultural Learning/Commitment. This longstanding commitment to intercultural dialogue was essential to ensure a successful collaboration between the partners.
"As a company with associates from around the globe, intercultural understanding is an essential part of our daily work at the BMW Group. It is because of this that we are so proud of our strong partnership with UNAOC. This collaboration and the Intercultural Innovation Award enable us to highlight some of the wonderful cross-cultural work being done worldwide. BMW Group's commitment to the awardees extends beyond financial support to include every relevant resource we can offer. This can make the crucial difference in turning an idea into a practice that enriches peoples' lives," comments Bill McAndrews, Vice President Markets Communication of the BMW Group.
https://www.bmwgroup.com/en/responsibility/gesellschaftliches-engagement.html
---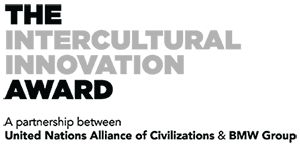 Intercultural Innovation Award
The Intercultural Innovation Award is a partnership between the United Nations Alliance of Civilizations (UNAOC) and the BMW Group that aims to select and support the most innovative grassroots projects that encourage intercultural dialogue and cooperation around the world.
---