In these challenging moments we are currently facing, it is evidently important to shine a spotlight of hope and unity, especially on people choosing to make a difference around the world.
The UN SDG Action Campaign remains hopeful that we can face these challenges in solidarity and flip division into togetherness, and apathy into action.
The Awards seek initiatives that mobilize, inspire and connect people to drive action towards a more sustainable future on a healthy planet — those that are flipping the script and rethinking how we live and what progress and development look like. This year the Awards also seek individuals — Changemakers — that inspire and empower others through their actions.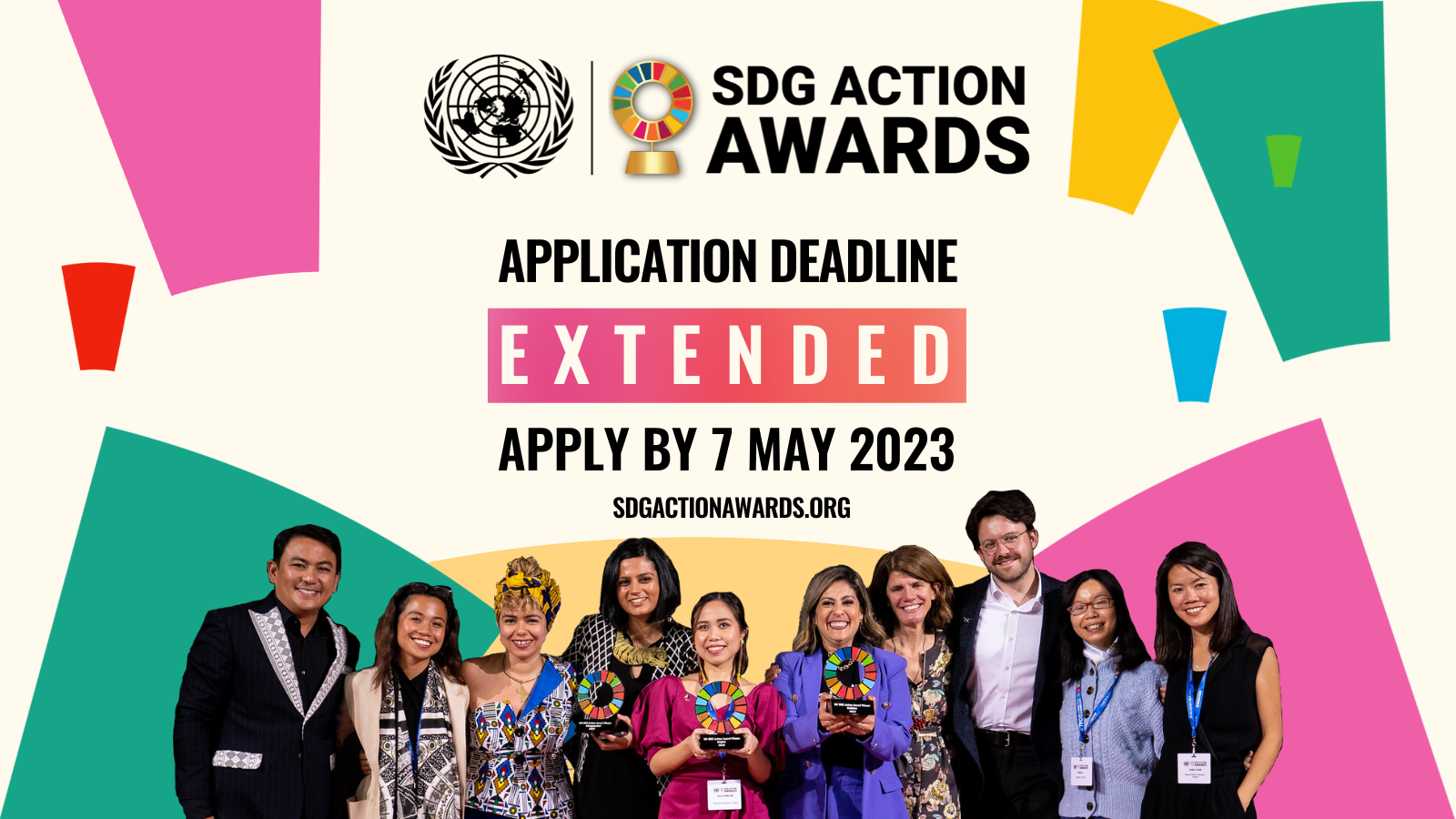 The UN SDG Action Awards are a signature program of the UN SDG Action Campaign. Since 2018, the UN SDG Action Awards have been identifying and celebrating changemakers across the world who have been re-thinking ways to drive progress towards the 2030 Agenda.
Winners and finalists will be unveiled at an inspiring and creative UN SDG Action Awards Ceremony taking place on 24 July in Rome, Italy during the official opening day of the 2023 UN Food Systems Stocktaking Moment, which will be hosted by the Government of Italy at the premises of the Food and Agricultural Organization of the United Nations (FAO) with the collaboration of the Rome UN Based-agencies, the UN Food Systems Coordination Hub and the wider UN system.
Applications will be reviewed against clear criteria measuring the impact, the transformative nature of the approach and the replicability or potential for scale, with winners being selected by a panel of prominent judges.
IMPACT
What is the impact of the nominee's initiative? e.g number of people impacted, mobilized, number of sectors involved, policies/ legislation/ budgets influenced, tangible shifts in behaviors and in SDG achievement.
APPROACH
How innovative is this initiative's strategy? Is it a breakthrough idea, are you approaching things in a totally new way? Is the initiative also engaging those at risk of being left behind?
SCALABILITY/ REPLICABILITY
Does this initiative have the potential to be scaled up and/or be replicated in other contexts to accelerate the achievement of the Goals? Is there any evidence that scaling up or replication is already taking place?
Does your initiative Flip the Script and bring positive change and transformative solutions to the most pressing challenges by  mobilizing, inspiring or connecting hundreds of thousands, or even millions, of individuals towards the vision of the 2030 Agenda for Sustainable Development? 
Apply or send your nomination by 7 May 2023 to be celebrated in the 2023 UN SDG Action Awards programme.